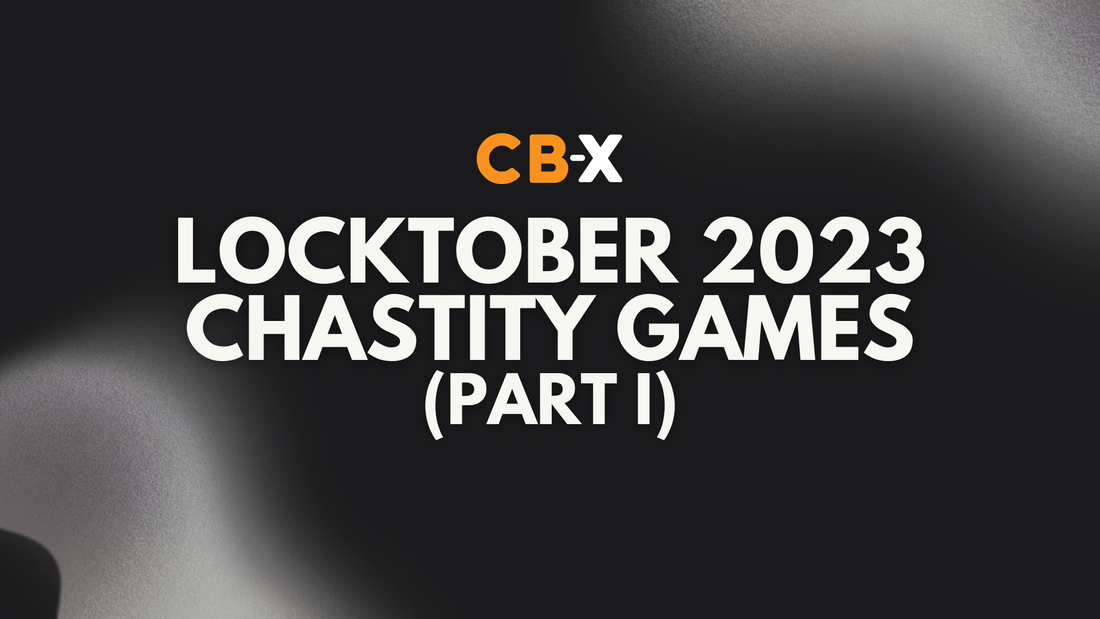 6 Chastity Games for Locktober 2023 (Part I)
Locktober is back!
For the majority of people, October is typically associated with pumpkin spice, Autumn leaves, or Halloween. In the kink community, October is a cherished month that recognizes not only Kinktober, but Locktober as well!
What is Locktober?
Locktober is a month-long holiday that challenges chastity cage wearers to stay locked in their chastity cages for all 31 days of the month. No orgasms allowed!
For chastity beginners, this month-long commitment doesn't have to be a requirement - we always have No Nut November for that! 
Some people might disagree with that - but if anyone can make adjustments or changes to Locktober, it's your grandaddy CB-X. Seniority rules. 
We hope that Locktober might encourage someone to give chastity a try - even if it is a short-term challenge. 
To us, Locktober is…
A test of willpower, trust, and endurance.

An opportunity to challenge yourself.

A fun way to introduce a rewards system into your chastity experience. 

An investment of time and willpower with an explosive payoff. That orgasm on November 1? Unreal. 

A unique opportunity to explore the boundaries of pleasure, patience, and self-control.

Full of creative chastity games to play with a partner, your Mistress, Dom/me, Keyholder, or alone. 
Locktober can be an intense, intimate and personal journey for many chastity cage wearers. Way more impressive than quitting carbs for a month, if you ask us.
As a special treat, CB-X is hosting a Locktober sale from October 1-31! Enjoy 15% off all CB-X chastity kits, individual chastity cages, chastity locks, and keyholder accessories with code 23LOCKTOBER23. Check out the CB-X items on sale for Locktober here. 
Six Locktober chastity activities to try
1: Incorporate a vibrating anal toy
You can choose the duration and the location. Using a vibrating anal plug will send stimulation to another erogenous zone, and the results may surprise you, if you've never explored the P-spot before. With an app-compatible remote-controlled anal plug, your partner can control the power in a crowd, or from anywhere in the world. We recommend the Lovense Hush 2 Vibrating Butt Plug.
2: Dick-umentary
Document your Locktober chastity journey either by taking a new photo every day every day, or by writing daily thoughts on your experience. For example: Have you realized that you like wearing your cage in public more as time goes by? Are you thinking about your penis more or less? How does your headspace change day to day? Bonus points if your diary has a lock!
3: Wear restraints when you sleep
Extend limitations beyond chastity, and try wearing a pair of keyless handcuffs while you sleep. Merging chastity with handcuffs allows the wearer to delve into a blend of bondage and chastity, resulting in a combination of anticipation and heightened sensuality. We recommend Quickie Cuffs silicone wrist restraints because they are made of silicone and they slide off effortlessly. 
Always keep a pair of safety scissors nearby. 
4: Ring-A-Ding Dong
Ready to let the world know you're locked in a chastity cage, without actually exposing yourself? (Reminder: no one wants to see your dick, so keep it hidden, k?) Attach a set of jingle bells to your chastity cage lock, underneath your clothes when you're out and about.
What we really need to know is: what would you say if someone asked, "are you...jingling?" 
5: Harvest Squash
Variety is the (pumpkin) spice of life, so why not squeeze your package into a smaller chastity cage this month? If you're hesitant because you aren't sure if your penis will permanently shrink, not to worry! Your penis will not shrink forever after being stuffed in a small chastity cage for an extended period of time. Sorry to disappoint any of you!
6: Chastity Key Quest 
On November 1, liberation from a chastity cage can be transformed into an engaging expedition. A chastity key scavenger hunt with creative hints along the way will build even more anticipation for release (because 31 days isn't enough).
Don't knock it until you lock it!
For more creative inspiration, check out our Best Locktober Games to Play from 2022, and this list of kinky Humiliation Tasks. 
Whether you're a seasoned chastity enthusiast or a curious newcomer, we hope you feel inspired to embark on a creative journey during Locktober 2023. 
,-Team CB-X

PS: Want to publicly profess your love for chastity pride? Locking your thing in a thing…is a thing - tell everybody! Click here to shop CB-X chastity t-shirts.